Letterman jackets are popular and stylish pieces of American sportswear that have been around since the 1800s. They were originally worn as uniforms by male athletes or to display school pride. Men have been rocking these jackets for years and setting trends, but why should they have all the fun? We believe that women should be able to enjoy these "men's" trends too!
Today, they have evolved into a must-have fashion item for girls. Girls' letterman jackets are available in different styles, colors, and materials, making them versatile to wear with a range of outfits. So, to fulfill your style cravings and to help you rule the fashion world, we've come up with some awesome and trendy girls letterman jacket outfit ideas that you can carry in every season.
Girl Letterman Jacket Outfit Ideas to Up Your Style Game
1. Classic Look
A classic look is one of the easiest and most effortless ways to style a letterman jacket. Pair your jacket with a white t-shirt, distressed skinny jeans, and a pair of sneakers. This outfit is perfect for a casual day out with friends.
This basic black jacket can do the job for a lazy day when you don't feel like dressing up. The jacket is entirely made of superior quality Melton wool body to keep you warm on chilly nights.
2. Dress It up
Letterman jackets are versatile enough to wear for a dressy occasion. To rule the varsity jacket outfit ideas' sphere, pair your jacket with a cute, flowy skirt, tights, and ankle boots for a more dressed-up look. Add some jewelry for a touch of glam.
The red satin jacket at Anything Chenille is perfect for this look. You can pair this jacket with the same color or go with a contrasting shade. The outer shell is 100% nylon satin, and the lining is 100% polyester brushed tricot. The best part is that it comes with front pockets and water-resistant fabric!
3. Make Denim your best friend
Another popular girl Letterman Jacket Outfit Idea involves pairing your outerwear with denim shorts and a basic t-shirt. This look is ideal for a casual day out or a weekend hangout with friends. To complete the look, add white sneakers and sunglasses.
We suggest styling this varsity jacket outfit girl with a royal and grey jacket from Anything Chenille, made out of soft cotton-faced fabric, knitted collar, cuffs, and waistband with striped details. The jacket features press-stud closure buttons, taped back neck, a hanging loop at the back neck, and hidden earphone loops inside the collar.
4. Maxi Skirt and Crop Top
For a more feminine and elegant look, you can wear your letterman jacket with a maxi skirt and a crop top. This look is perfect for a summer day out or a dinner date with someone special. Add some strappy sandals and a statement necklace to complete the look.
This royal and white jacket is an ideal choice for the outfit. The colors are great for daytime, and the superior quality 80% virgin wool body fabric is ideal for moderate weather.
5. Leggings and a Tank Top
Another comfortable and stylish outfit idea for girls is to pair your jacket with leggings and a tank top. This look is perfect for running errands or attending a casual event. Add sneakers or boots and a cross-body bag to complete the look.
Made of leather set-in sleeves and quilt lining, this kelly green and white outerwear will give the perfect pop of color to your outfit, making you the star of the show.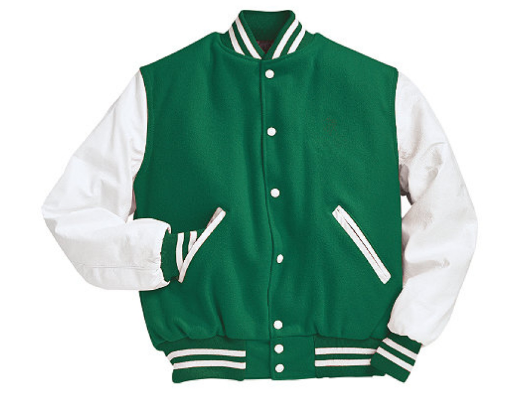 6. Boyfriend Jeans and a Graphic Tee
Do you enjoy dressing up cool and edgy? If so, you can totally achieve such a look with a letterman jacket. Pair it with boyfriend jeans and a graphic tee. Add combat boots and a statement necklace for a bold and daring look.
A custom letterman jacket can take your outfit to the next level. You can send us your designs, and we promise to bring your vision to life!
7. Skinny Jeans and t-shirt
You can pair a letterman jacket with skinny jeans and a t-shirt for a cozy and chic look. This look is perfect for a chilly day out or a coffee date with friends. Add some ankle boots and a matching scarf to complete the look.
This pink and gray jacket would perfectly complement your outfit. Made with 9.8 oz., 80% ringspun cotton, and 20% polyester heavyweight fabric, it's soft on the skin and keeps you warm.
8. Skater Skirt and Crop Top
You might not have thought of this pairing before, but for a fun and flirty look, you can wear a letterman jacket with a skater skirt and a crop top. This look is perfect for a night out or a party with friends. Add heels or ankle boots and a clutch to complete the look.
A black crop top paired with an orange flannel mini skirt will pair nicely with this letterman jacket from Anything Chenille. Made from 80% virgin wool, the fabric is lightweight and soft to keep you warm without compromising on your style.
9. Overalls and a T-Shirt
If you want to create a playful and trendy look, wear your letterman jacket with overalls and a t-shirt. Add sneakers or ankle boots and a backpack for a fun and youthful vibe.
Pair printed overalls in lavender with this letterman jacket for the ideal day look. You can wear matching accessories for the perfect finish.
10. Maxi Dress and Sandals
For a bohemian and romantic look, wear your letterman jacket with a flowy maxi dress and some strappy sandals. Add some delicate jewelry and a floppy hat for a feminine vibe.
Most colors would go well with this satin navy letterman jacket. We have designed our letterman jackets in satin to ensure you don't compromise on your style with a basic jacket. The jacket features Raglan sleeves for maximum mobility and comes with striped rib-knit collar cuffs and bottom bands.
Bottom Line
There is no limit when you are looking for girls letterman jacket outfit ideas. From layering with denim shorts to maxi skirts, there are many different ways to style a letterman jacket. With our detailed styling guide, you don't have to worry about what to wear with a varsity jacket. Try any of these combinations, and you'll surely rock the outfit. If you are looking for premium quality letterman jackets, don't forget to check out the amazing collection at Anything Chenille.